Palm Reading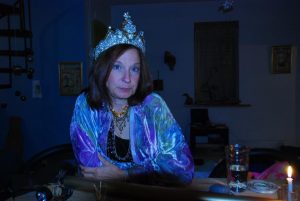 Rebecca Henderson, known worldwide as The Bluegrass Gypsy, reads hands, teaches and performs storytelling and theater.She has over 30 years experience as an entertainer, and traveled around the world sharing her stories and reading palms.
Her travels have taken her everywhere from the Indian Ocean to Belgium, including Mexico, Canada, Europe, and The Bahamas.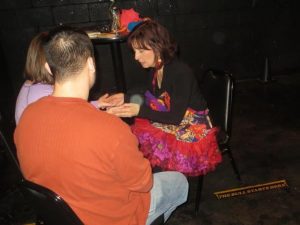 Celebrities have sought her out. She once read the Emperor Hirohito's brother's palm at a command performance. 
Story Telling
 The Bluegrass Gypsy astounds. She uses the spoken word, songs, costumes and props that transport you to magical worlds. She links the arcane with the mundane, and spins them into worlds of realistic fantasy.
Experience the fireflight of story through the senses, participating in the timelessness of a tale with the Bluegrass Gypsy.
The Bluegrass Gypsy brings a unique connection for every guest at corporate engagements, and fundraising events, and private parties. 
[si-contact-form form='59']
*The Bluegrass Gypsy is also a certified 5rhythms global teacher.