Using magic can inspire your group.  Magicians possess a unique line of thinking, using psychology, and word games.
A speaker who incorporates magic into their presentation can inspire creative thinking, and build confidence.
Magical presenters will make an impact, and the lessons they teach will be remembered.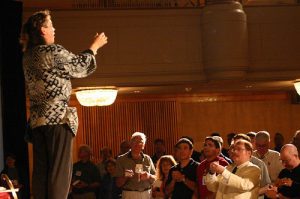 When hired for this highly specialized speaking engagement, the speaker uses Motivational Magic both as an attention getter to spark the interest of the audience, and also as a teaching tool that illustrates key points. Those who hire speakers that offer motivational magic look for professionals that show a long track record of exceptional skill and experience as a speaker and an entertainer. Such speakers are often brought in when extra fire power is needed to influence an audience to take a specific action step, embrace new changes in the company, or become sold on a new product or service.
Large corporations hire motivational magicians to inspire their employees to make undesirable things disappear, such as frequent absences, low productivity, poor customer service, and harassment on the work site.
Professional associations hire motivational magicians for their skill and experience in entertaining their annual conferences and regional meetings. The motivational magician finds it an easy transition to implement their magical routines with inspirational messages that delight the audience who enjoy magic.
Motivational magic should be on your list of events.
[si-contact-form form='5′]