You want the entertainment to show up, perform above your expectations, and have your guests feel great.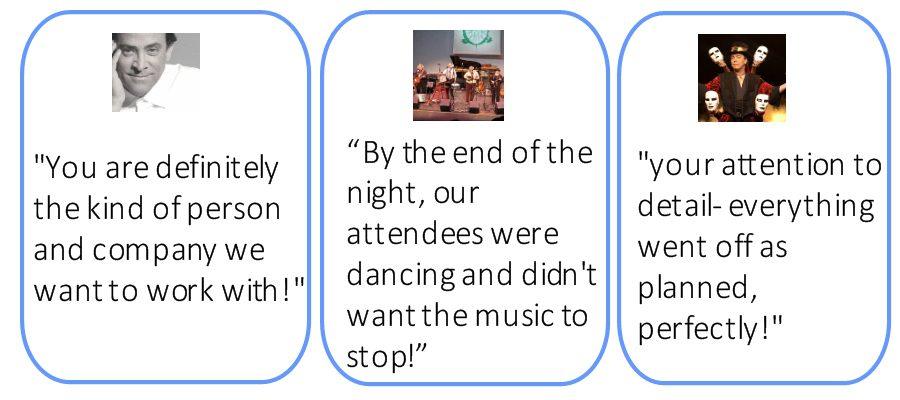 We made that happen for other event planners.
We'll make that happen for YOU!

"Ray was a great help in making the International Festival of Magic a success." – Bill Herz and Mac King
"your attention to detail- everything went off as planned, perfectly!" – Jeff McBride, International Illusionist, Las Vegas
"Wonderful! These are people that know how to put on a show!" – audience member
"They were excellent!! Highly recommend them. We used them for Relay For Life and they entertained the crowd for hours with high energy." – American Cancer Society
"Thanks again for the first class treatment … You are definitely the kind of person and company we want to work with!" – Greg Pitts, Tampa
"When you need an act that hits on all cylinders, Darshwood is the man! Incredible magic, intelligent humor, and creative thinking plots him above all the rest. A fantastic entertainer!" – Dennis Alm, Talent Coordinator for Comedy Caravan
"The entertainer was engaging, and his ability to interact with his audience made his show a success." – CityBus
"We booked the Juggernaut's for a corporate event! By the end of the night, our attendees were dancing and didn't want the music to stop! Wonderful!" – Pennwell
"Loved everything about our experience. Will be using them again at our next event. Thank you so much." – C.L. After Prom Organizer

"Just do it- you will be entertained and it is unlike anything that you will find – totally worth your time and money!" – ViaColori
Do you want your event experience to sound like these?
Let's get Started!
 Comedians, Bands, Speakers and Magicians in Louisville, Nashville, Indianapolis, Las Vegas, Cincinnati, and other major US cities