Corporate Events
From Rohm and Haas to Advanced ChemTech to the Kentucky Rural Electric Co-Ops to Walmart...The Wulfe Bros. understand the corporate environment and know how to please. Whether it's a corporate awards banquet or an employee appreciation dinner the entertainment will complement the occasion. If you are having a open event to reach the public with your corporate message, The Wulfe Bros. are the perfect group. They understand the delicate art of blending your message into a fun entertaining performance that will accomplish your goals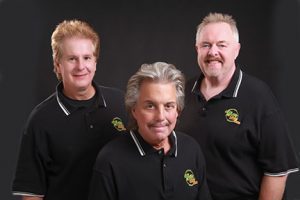 Fairs and Festivals
The Wulfe Bros. are a high-energy band that understands what the audience is looking for. If one word were needed to describe them, it would be... ENTERTAINERS! Variety is essential in satisfying the diverse interests of your audiences. The Wulfe Bros. are professional musicians with many years of experience. Their shows include a patriotic presentation paying tribute to our armed forces from the American Revolution to the Persian Gulf; a wild and wooly Western show that guarantees to take you back to those thrilling days of yesteryear and a rollicking rock 'n' roll history lesson. Regardless of which show, the audience will be totally engrossed in their presentation. Their close harmonies, full sound and zany antics make each performance a hit for the entire audience.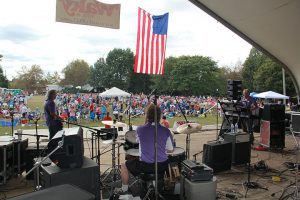 Dances and Special Events
If you want people on the dance floor, then you want The Wulfe Bros. at your event. As veteran professional musicians, they have an uncanny ability to draw everyone on the dance floor and KEEP them there. As seasoned musicians their reportoire is extensive. You will hear music that everyone knows, loves and dances to.
They understand how important your event is and will work with you in every way. From set-up to tear-down, they handle every detail with care. They also understand that your event is unique and has special requirements. They can serve as your Master of Ceremonies or turn over the stage to you for announcements or planned activities.
Weddings
It is your day. It is the day when you can not afford to leave anything to chance. You have carefully planned every detail, and one of the most important aspects of the day is your entertainment. The Wulfe Bros. will assist you in making this a flawless day that no one will forget. Their extensive music repertoire will make sure that you and your guests hear music that everyone loves. The pace of your reception is critical and they can get all the information ahead of time and then carefully orchestrate the cutting of the cake, photo opportunities and the wedding party dances as you direct. Don't leave this crutial detail to chance. Choose The Wulfe Bros. as the "icing on the cake."
[si-contact-form form='73']