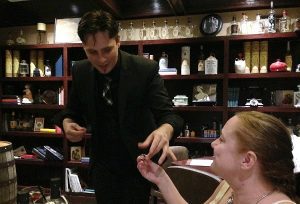 I am here. I exist. I count for something.
This article is written in the context of performance. Each and every one of us wants to be acknowledged in one way or another.
During the entertainment portion of your event, the audience is wanting to be taken away from their daily thoughts, and brought in to another world, a fantasy world, so to speak.
An important part of that world is to make them feel that they are a part of what you are doing. In a small group, this is fairly easy. How does this apply to a large venue of 150, 300, 1000 people? How would the magician or comedian on stage connect with each and every one in the audience, and make them feel that they have been acknowledged?
WHY IS THIS SO IMPORTANT?
Bill O'Hanlon said the following about the powerful effect of acknowledging: "You really give them a sense that they've been heard; that their experiences have been acknowledged; that who they are has been valued and validated."
A comedian tells stories that have a common thread between the storyteller and the audience. The goal is to have everyone laughing while saying to themselves "yep, that's [me, my friend, my wife, etc].
A magician selects someone from the audience to come help on stage. His selection is not about the one person he chose. Rather, it's about selecting a volunteer that the majority in the audience identify with, someone who they can live the moment through.
You want a performance that gives your associates
a really fun time

a feeling of being cared for

the feeling of being included
In performance, we must understand the importance of acknowledgement. It must be genuine. I can't tell you the number of performers I know, have seen, that put more importance on their show than they do the audience. If you have ever had one of these at your events, you know what I am talking about.
An entertainer who truly loves his audience, and cares about them, will add a thousandfold enjoyment value to your event. 
You acknowledge those in the audience by valuing performance over price. Make sure your performer values your people as much as you do.
[si-contact-form form='1′]